Questions
Questions:
Apply systematic risk management rules to reduce impact from high volatility market environment.
Goal to improve risk properties of index more than sacrifice w.r.t. annual returns.
Is there a generic set of rules that consistently improve the index Sharpe ratio?
Approach:
Implement four risk thresholds with corresponding portfolio overlay weights.
Scan a parameter grid w.r.t. the risk thresholds and weights for a set of alpha AiLA indices.
Try to identify a parameter set that consistently improve the index Sharpe ratio.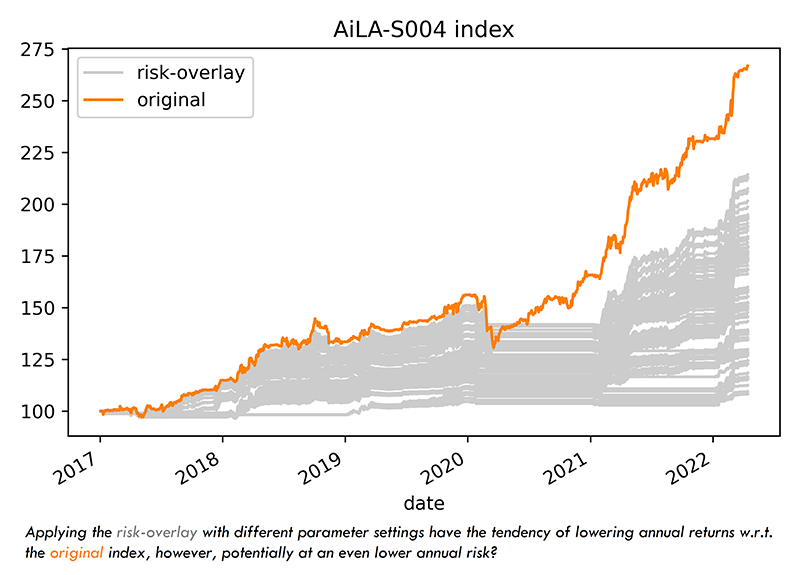 Parameter Grid
The risk management parameters for a given AiLA index are defined w.r.t. the annualized sample std.dev. of index returns, i.e. normalizing the performance w.r.t. the typical annual return size of the index.
Annualized risk can differ significantly, since some indices are constructed with a specific vol. target and others with varying index vol.
In case the cumulative index PnL cross any of the threshold values, the corresponding weight is applied thereafter to the index asset allocations, i.e. this refers to crossed from below (above) for the portfolio target and soft loss reset (soft loss and hard loss) thresholds.
In the exercise all weights are reset to 1.0 annually.
The risk-overlay is applied to each index for 163 grid points,

𝐶𝑝𝑡 : (0.25, 0.50, 1.00), 𝑊𝑝𝑡 : (0.25, 0.50, 0.75)
𝐶𝑠𝑙 : (0.10, 0.25, 0.50), 𝑊𝑠𝑙 : (0.25, 0.50, 0.75)
𝐶ℎ𝑙 : (0.10, 0.25, 0.50), 𝑊ℎ𝑙 = 0
𝐶𝑠𝑙𝑟 = 0, 𝑊𝑠𝑙𝑟 = 1.00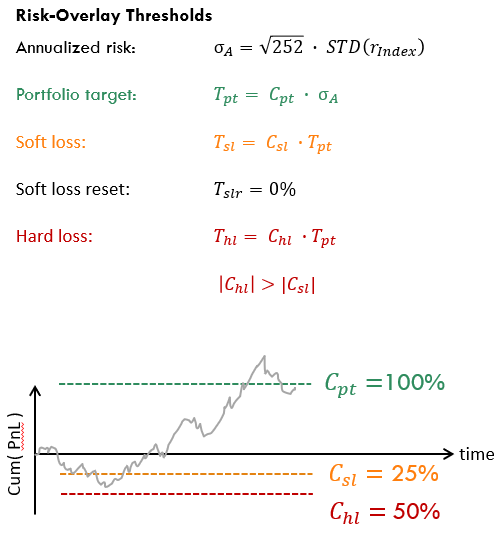 AiLA Indices
The risk management overlay was applied to 20 AiLA indices, for each point of the parameter grid.
For 8 out of the 20 indices less than 10% of the points corresponded to an improvement w.r.t. the Sharpe ratio of the original index.
From the remaining 12 indices, 3 indices where ≳50% of the points corresponded to an improved Sharpe ratio w.r.t. the original index, were used to select favorable parameter settings in-sample.
The remaining 9 indices were then used to investigate if the selected parameter settings show indications of being generically favorable out-of-sample.
Selection and Results
Using the 3 in-sample indices parameter points were filtered out based on the following criteria,

Nr of days with allocation > 50% w.r.t. original index.
SR(risk-overlay) > SR(original)
Rank(SR) among all points > 2/3 x median(SR)

This resulted in two favored parameter grid points,

(𝐶𝑝𝑡 , 𝑊𝑝𝑡 , 𝐶𝑠𝑙 ∙ 𝐶𝑝𝑡 , 𝑊𝑠𝑙 , 𝐶ℎ𝑙 ∙ 𝐶𝑝𝑡)
Point 61: (0.50, 0.25, -0.05, 0.75, -0.125)
Point 79: (0.50, 0.50, -0.05, 0.75, -0.125)

Ideally these parameter settings could yield an improved as well as a high ranked Sharpe ratio also for other indices?
Both the parameter sets result in 2/9 indices with improved SR and 3(4)/9 indices with rank(SR) above the 81 median value.
The Sharpe ratio improvement is often generally common or rare for a given index, i.e. difficult to interpret. However, together with the ranked results, no indication of a general SR improvement by the in-sample grid points was observed.
Conclusions
A set of systematic risk management rules were used in a short analysis to address the question if a generic set of these rules consistently improve the Sharpe ratio of the AiLA indices.
The systematic risk management rules were implemented as a risk-overlay applicable to any AiLA-index and a parameter grid was used to investigate a wider range of configurations of the rules.
The risk-overlay was applied for each point of the parameter grid to a set of 20 AiLA indices, out of which an in-sample set of indices were used to select candidates for generically favored parameter points, and an out-of-sample set of indices were used to evaluating their performance.
The results did not indicate a general improvement among the out-of-sample indices, for the parameter points that were favored by the in-sample indices, i.e. no indication of one risk-overlay configuration that improve the Sharpe ratio for AiLA indices in general.
The study is by no means considered exhaustive, with both significant limitations in terms of risk-overlay scenario coverage as well as available indices and data. However, the analysis serves the purpose of checking if any indication could be observed given the scope of this short investigation.